HEALTHY SCRUMPTIOUS INDIAN FOOD
The Indian diet is known for its involvement in many rich flavors, vital spices, and seasonings with many health benefits that make the Indian cuisine so unique. Several people struggle to discover healthy Indian cuisine. Generally, Indian foods are made with spices, ghee and oil which are not very healthy, so why not enjoy some healthy Indian food such as vegetable dishes, and tomato-based curries which are flavorsome and nutritious at the same time. Vitamins like vitamin B and vitamin C are also found to be helpful for brain health.
What makes Indian Cuisine so healthy? There are some classic elements of the desi food-
Low saturated fat 

High fibers 

High varieties of herbs and spices like coriander and ginger

Generally vegetarian

High varieties of fruits and vegetables, such as mango and spinach
Indian food has plenty of options for the vegetarians, with lower saturated fats than that of meat, though there are many Indian dishes that are served with creamy sauces or are fried. 
Do you have a doubt that desi Indian food is not healthy? We are here to clear that 
Have a look at these 5 healthy and delectable Indian dishes to try- 
The main ingredient of the Chana Masala is the chickpeas, cooked in a sauce made from tomatoes, onion, and other spices. These onion- tomato sauces are blended with ginger, garlic, and lots of chilies. It is paired with naan, roti(Indian flatbread) or bhatura( puffed deep fried bread).
 Research shows that a high diet of chickpeas lowers the risk of diabetes and chronic diseases. Consuming a good amount of chickpeas improves heart health. This is because of the amount of fiber and the plant proteins that chickpeas contain. Chana Masala is a legume loaded with lots of minerals, iron, fiber, vitamin B, and folate. It is a solid pick for all vegetarians.
Dal which consists of beans, pulses, and legumes is one of the most healthy Indian foods one can find not only packed with nutrition but also with protein. The dishes which are made out of these pulses and cereals are very healthy and delicious too. For the people who do not eat animal protein, Dal is a great source of protein. As these are filled with a lot of vitamins, it helps in the growth of the body.

As compared to other legumes, lentils contain high prebiotic carbohydrates and fiber content. To lower the fat, one must order dal in the form of tomato-based sauces over creamy ones. It is an essential part of Indian food. Dal is one of the best food choices for people suffering from diabetes. Also, the intake of these pulses is beneficial for other health issues such as cholesterol. It contains all the folate, vitaminB6, proteins, and fiber. 
Raits is served as a side dish in Indian cuisine made of curd together with some boondi, vegetables, mints and fruits which are of zero calories and can be freely consumed. It contains zero fat with fewer calories. It also provides hydrating properties and many health benefits including weight loss. Rock salt, grated cucumber, and black pepper help to stimulate weight loss. 

It contains low unhealthy fats and high amounts of protein and is a perfect dish for digestion. Cucumber raita is one of the greatest substitutes for boondi raita as it contains rich fiber and helps to balance blood pressure.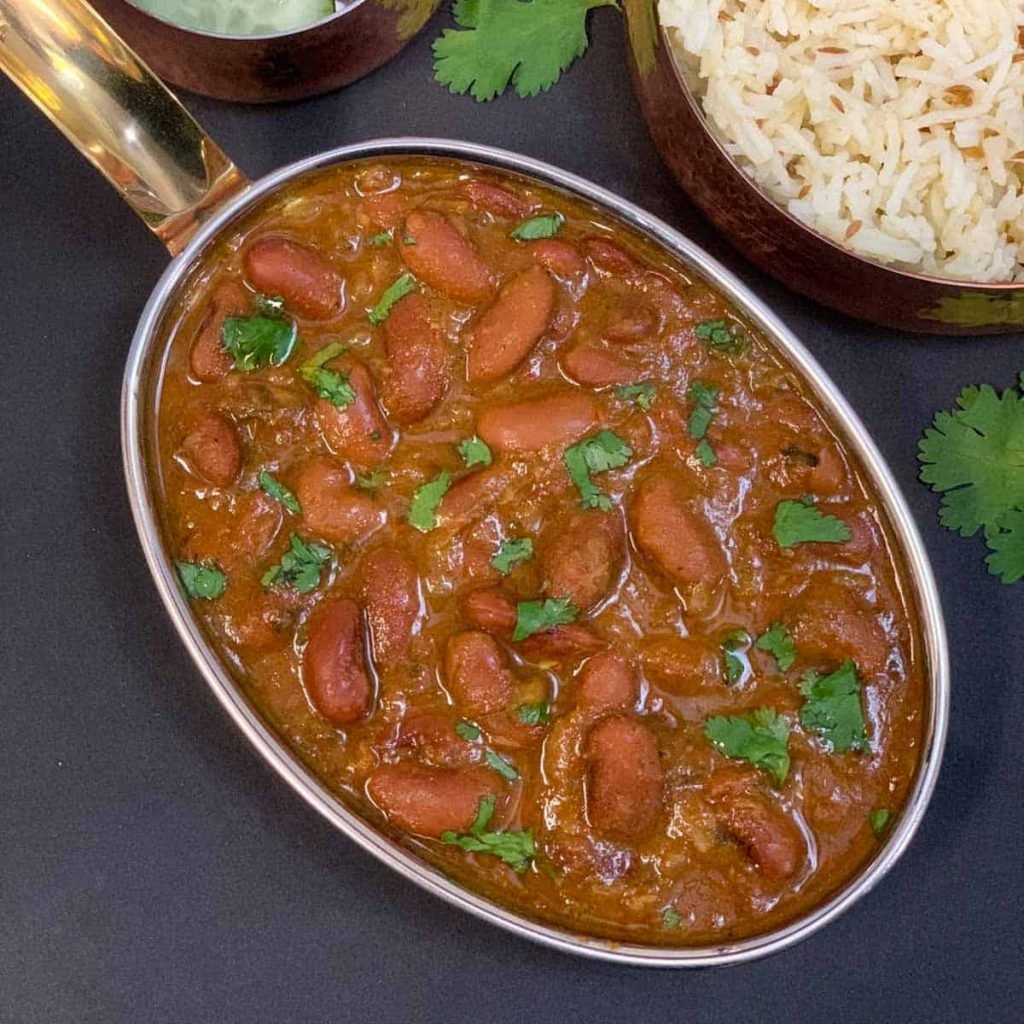 Masala Rajma ( kidney beans) is a healthy curry from Indian cuisine. It is a powerhouse of protein and one of the favorite dishes of Indians, cooked in masala gravy of tomato and onion. Masala Rajma is a healthy gluten-free vegetarian dish, with low calories and high in fiber and protein.

It contains a rich source of carbohydrates, calcium and folic acid which also lowers the level of cholesterol in the blood. It is good for diabetes, the low glycemic index in rajma stables the content of sugar in the body. Calcium and manganese in kidney beans also help to strengthen the bones.
Roti, made out of wheat flour, is one of the most common foods in India. But now there are many forms of healthy flour available like- multigrain atta, jowar, bajra which contain fewer carbs and are healthy. These are made without using any type of oil and are prebiotic and help in promoting the beneficial bacteria in the gut. You can have it daily with a side dish and can achieve your health goals. It is one of the best foods to add to your diet for weight loss.




Healthy food matters a lot, the way you cook and consume them also matters.as you have read the list of these toothsome healthy dishes, how many are going to be a part of your diet?

Desi Hype one of the best Indian restaurants in London provides the desi Indian food with the best service and quality one would love. Order or visit desi hype in harrow, London to try the best Indian food.